Image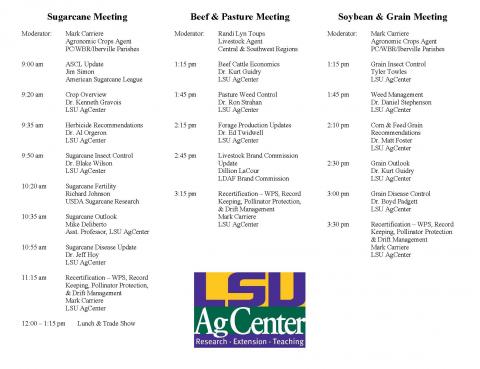 The 32nd Annual Farm Forum is scheduled for Monday, February 6th at the Scott Civic Center in New Roads. 
Letters were sent out to those private applicators who are in need of recertification. You need to attend either the morning Sugarcane Production Meeting or either of the afternoon production meetings (Soybean & Feed Grains or Beef & Pasture) in their entirety to recertify (see attached schedule).
If you are in need of recertification, please remember to bring 2 checks or money orders. NO CASH will be accepted.
One check needs to be made payable to LSU AgCenter for $15.00 and the other needs to be made payable to LDAF for $25.00.
There will also be a Worker Protection Standard (WPS) Handler Training in the morning at the same time as the Sugarcane Production Meeting.
If you have any questions prior to the meeting please let me know. Please spread the word to all producers and private applicators about this recertification opportunity.
Scott Civic Center
1200 Major Parkway
New Roads
LA
70760
Mark Carriere
225-638-5533